Renewal:2019-06-14 11:41:26
EDC Korea 2019 Ticket in Seoul - EDC + Seoulland + Elephant Train Shuttle Ticket 2019 EDC코리아 투어 패키지 티켓(서울랜드 이용권 + 코끼리열차)
181, Gwangmyeong-ro, Gwacheon-si, Gyeonggi-do (경기도 과천시 광명로 181)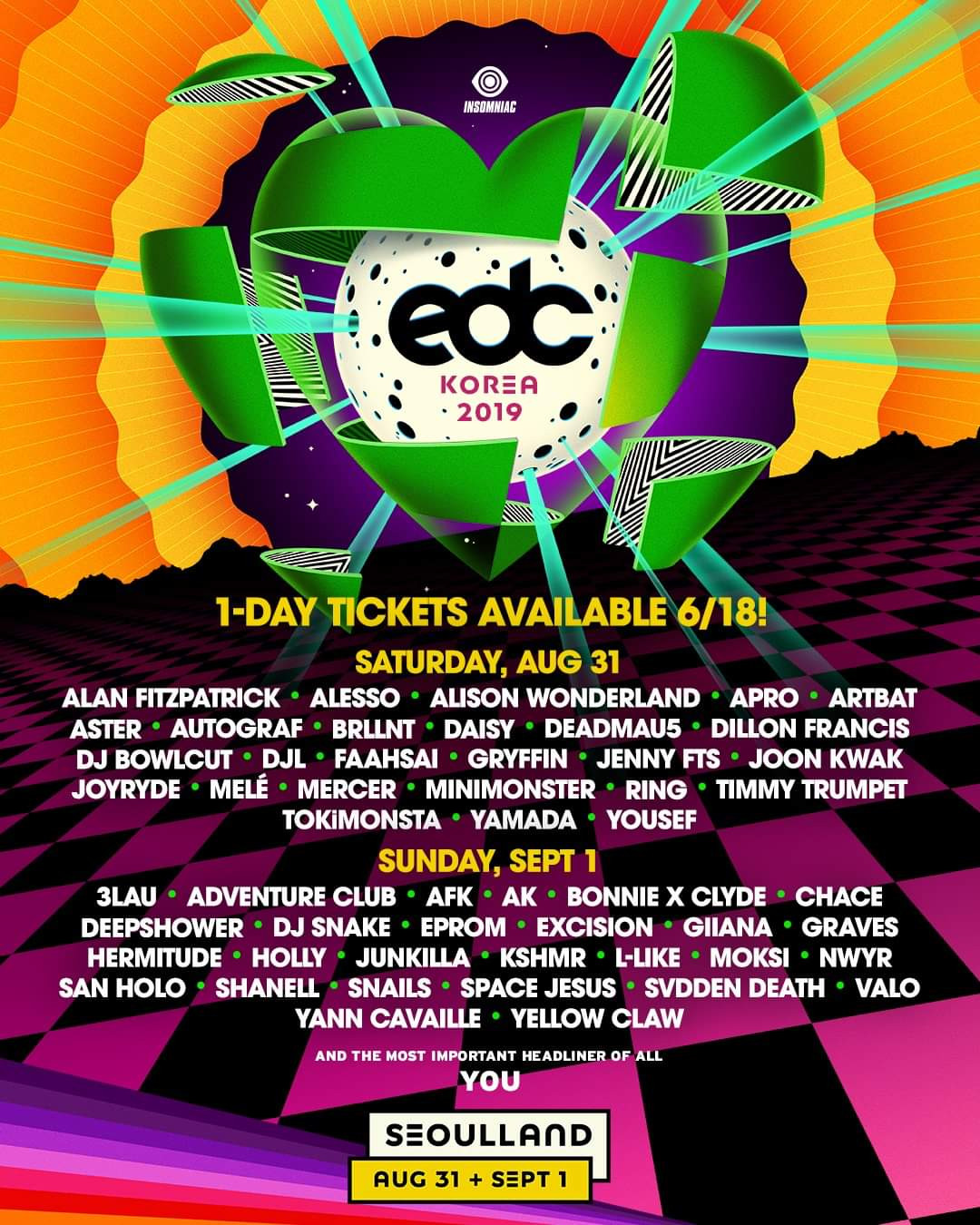 EDC Korea 2019 Ticket in Seoul(EDC Ticket + Seoulland Ticket +
Elephant Train Shuttle Ticket )

※Customer who bought EDC ticket can freely enjoy 11 rides in the Seoul Land. Additional issuance of elephant train ticket (One day pass = 2 elephant train tickets / Two day pass = 4 elephant train tickets)
★2nd exit of Seoul Grand Park station of Line #4 → Arrive Elephant train information center → Ticket Exchange(present passport and reservation voucher) → Go to main entrance of the Seoul Land by elephant train → Enter the concert hall
★'trippose.com' website is the official ticket sales affiliate of the EDC KOREA.
This ticket is to be sold as a set and no item will be sold seperately.
No cancellation & amendment after booking confirmed​
Only people age 19 and above will have access to the venue. Ticket reservations will be available after completing the adult verification process.
People who born before Dec 31, 2000 can attend this performance.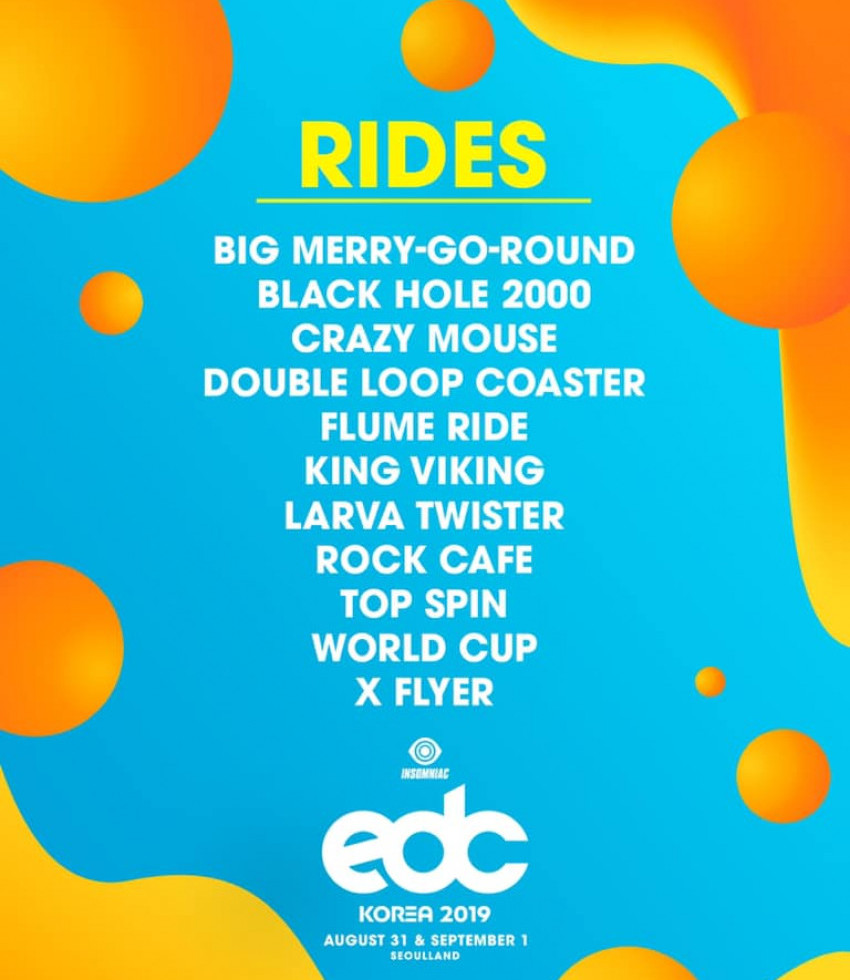 LINEUP
3LAU / Adventure Club / AFK / ALAN FITZPATRICK / ALESSO / ALISON WONDERLAND / ARTBAT / AUTOGRAF / BONNIE X CLYDE / CHACE / DEADMAU5 / DILLON FRANCIS / DJ SNAKE / DJL / EPROM / EXCISION / FAAHSAI / GRAVES / GRYFFIN / HERMITUDE / HOLLY / JOYRYDE / KSHMR / Melé / MERCER / MOKSI / NWYR / RING / SAN HOLO / SNAILS / SPACE JESUS / SVDDEN DEATH / TIMMY TRUMPET / TOKiMONSTA / YELLOW CLAW / YOUSEF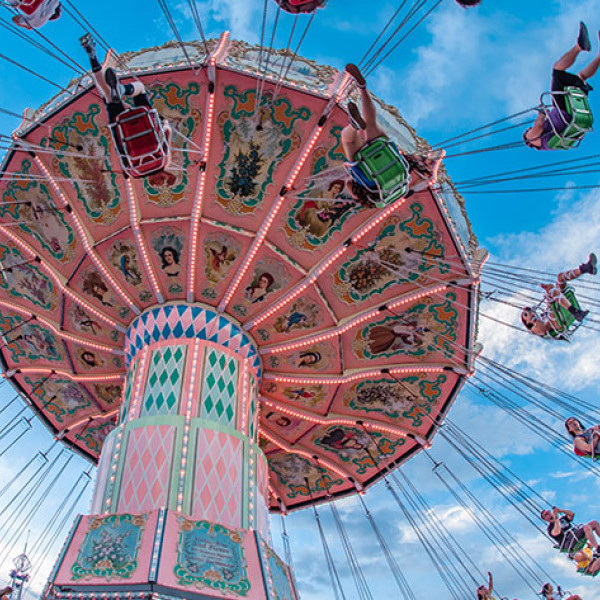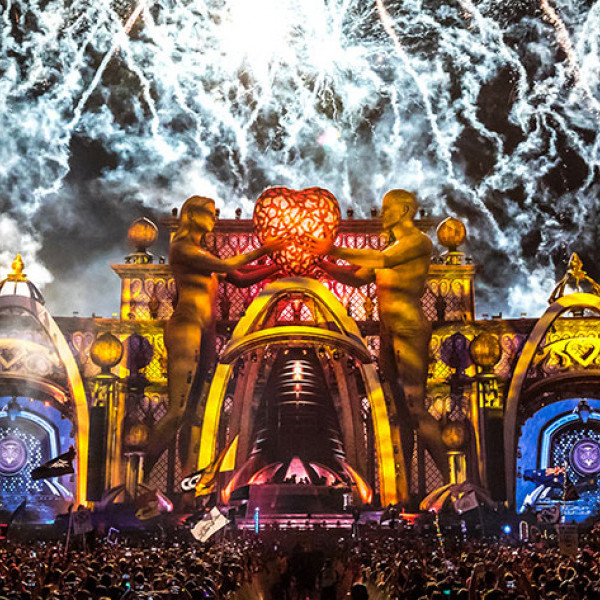 The world best theme park type electronic music festival!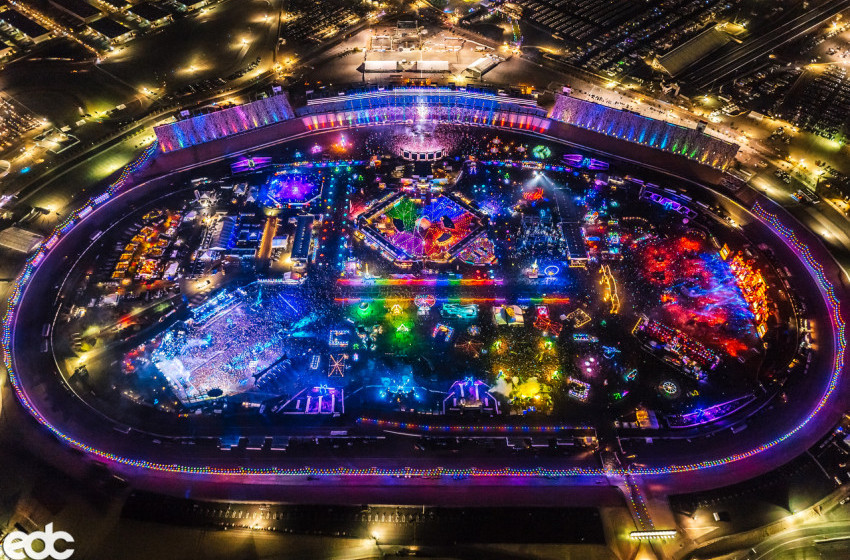 Special things that nobody would have experienced in any EDM festival is waiting for you. Are you ready to enjoy the carnival in one's imagination, various stages, spine-tingling ride, unique performances and art with EDC? Don't miss the EDC KOREA, where your imagination become the reality 'Electric Daisy Carnival(EDC) Korea' which held for the first time in Korea will be held at Seoul land on August 31 ~ September 1.
'Electric Daisy Carnival Korea(hereinafter EDC Korea) announced 36 DJ line up. 'EDC' is the performance that started at Las Vegas, United States and celebrating its 23th anniversary this year. It is famous by audiences all over the world every year, and held in other nations such as Mexico, China, Japan etc. 'EDC' that will be held for the first time in Korea showed it's potential power through selling the whole blind ticket which sold out before announcing the line up. At this year's EDC Korea, there will be 36 teams including the world famous DJ Alesso, leading progressive group, deadmau5 of Canada.
EDC Korea is preparing for the special program which meets the 'carnival' concept not only the DJing performances.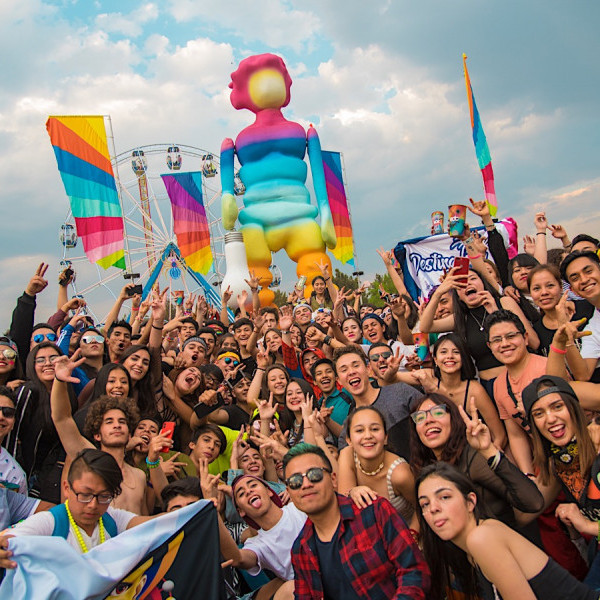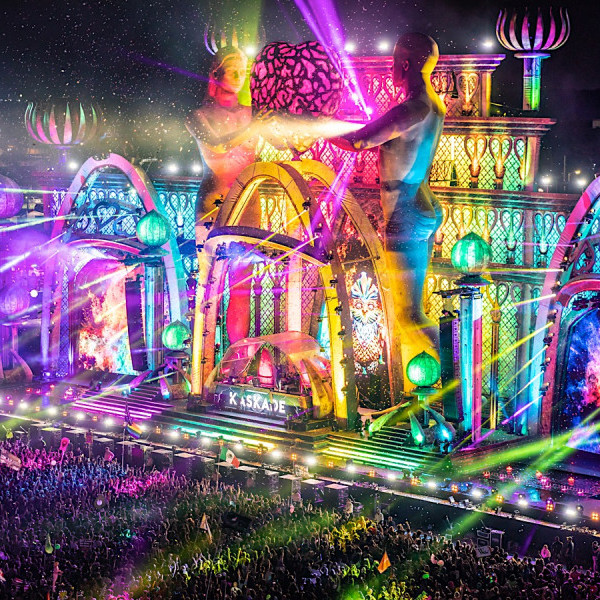 Unlike any other EDC experience in the world, the Korean edition will be held at an amusement park. Neon wonderland 'Seoulland' will be the new home of Insomniac's latest expansion, featuring roller coasters, carousels, arcades and more!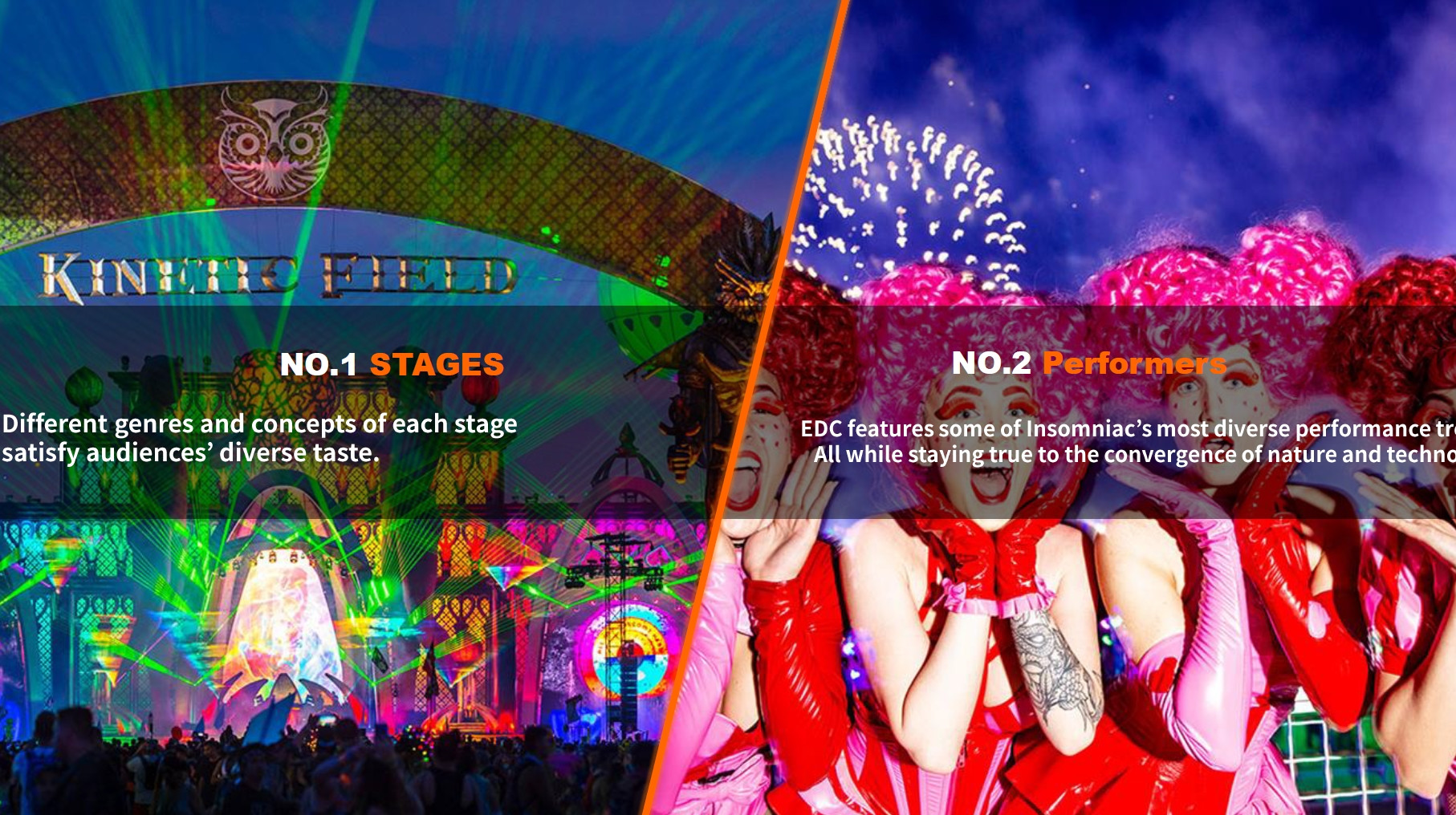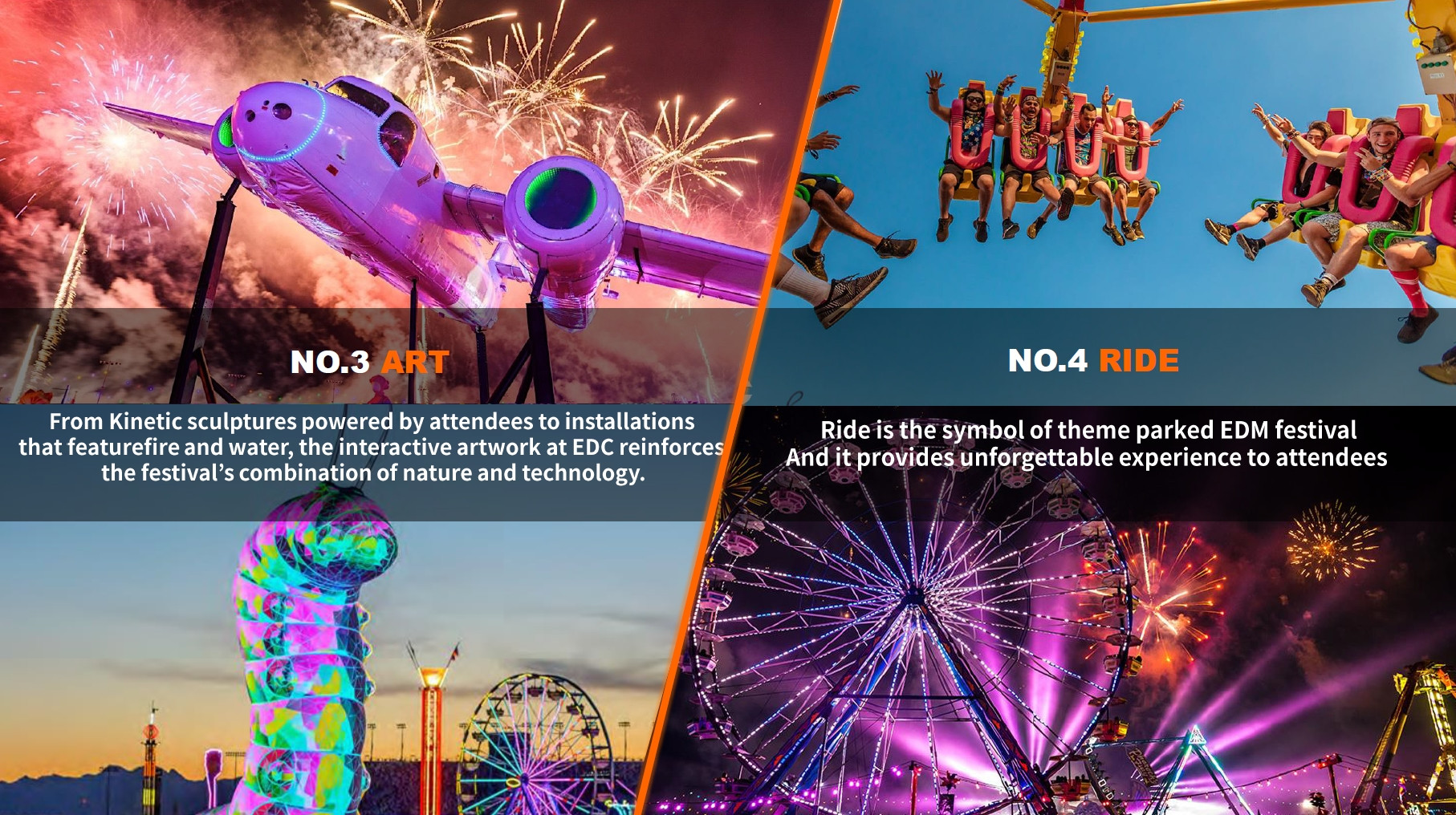 EDC Korea - Inaugural Event to Premiere Later This Year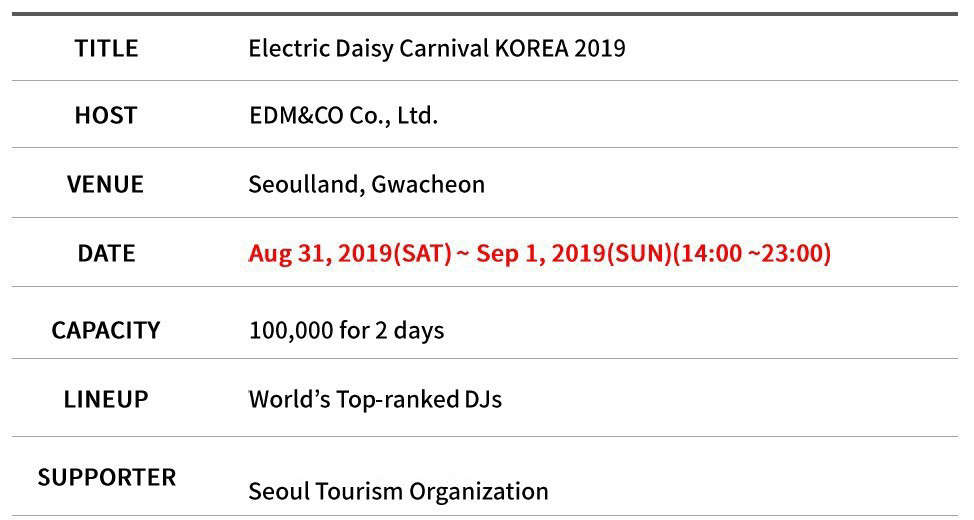 "Foreigner Tourist Ticket" / Ticket booth only for the foreigner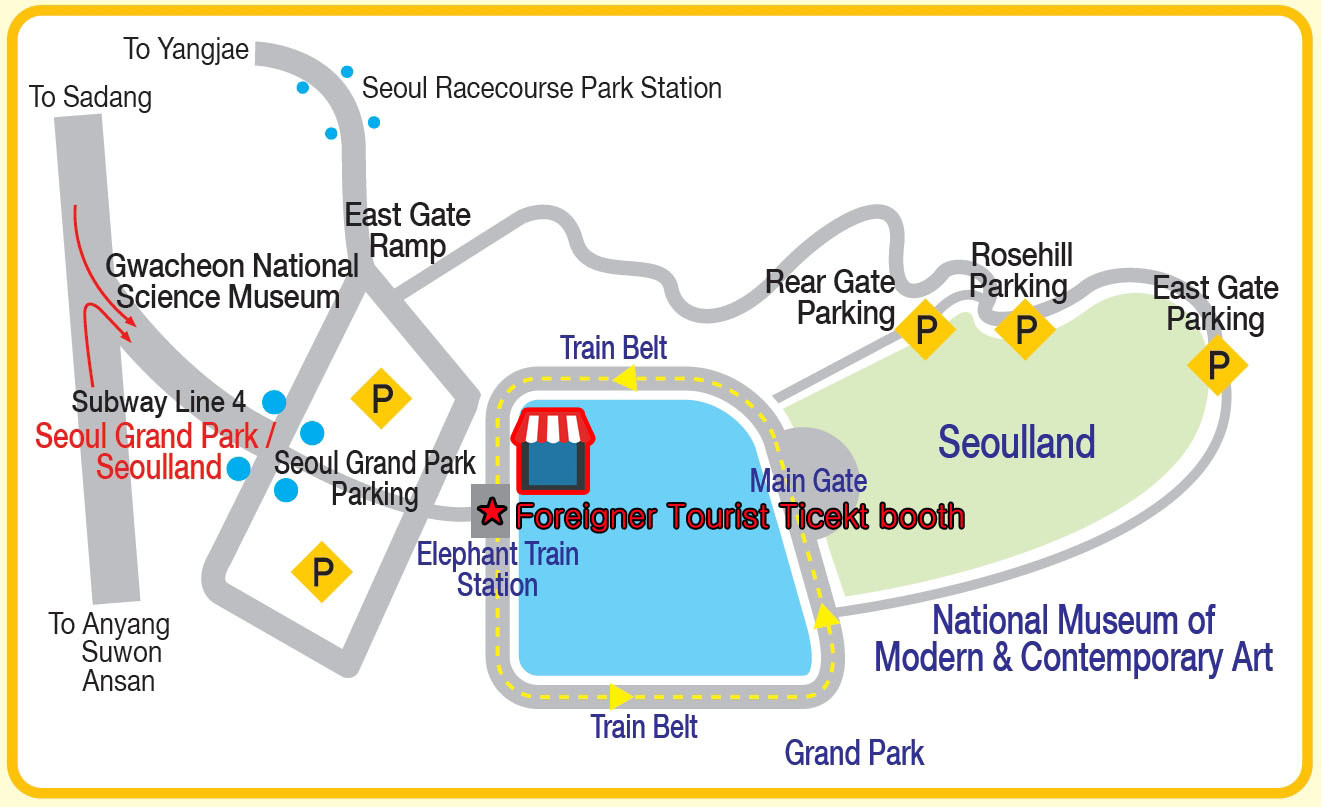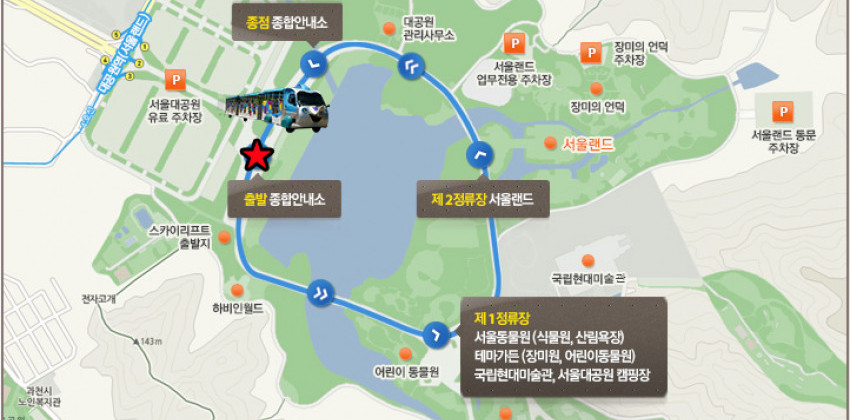 [Ticket booth only for the foreigner]
-Address : 181, Gwangmyeong-ro, Gwacheon-si, Gyeonggi-do /경기도 과천시 광명로 181 (막계동)
-[Subway] Seoul Grand Park Station (Seoul Subway Line 4), Exit 2.
The quickest and easiest way to travel to Seoulland is via subway. You can arrive at the main gate of Seoulland by taking the 'Elephant Train' from Subway Line 4, arriving at Grand Park and Seoulland Station.
-Operation time of the ticket booth : Aug 31 (12:00-16:00) / Sep 1(12:00-16:00)
-you can check change your ticket the each vendor site with X-banner logo.
-Change your ticket at the designated at the foreigner exclusive ticket booth certainly.
-Ticket booth will be located at the front of tourist information center by elephant train pick-up location ※ we will notify changes in advance.
★This ticket is to be sold as a set and no item will be sold seperately.
★No cancellation & amendment after booking confirmed​
Seoulland Theme Park
Seoulland is Korea's first theme park, with a beautiful scenery surrounded by Cheonggyesan Mountain. With more that 50 rides and other seasonal attractions, Seoulland offers thrill for people of all ages. Luna Land and Jurassic Land is not to be missed.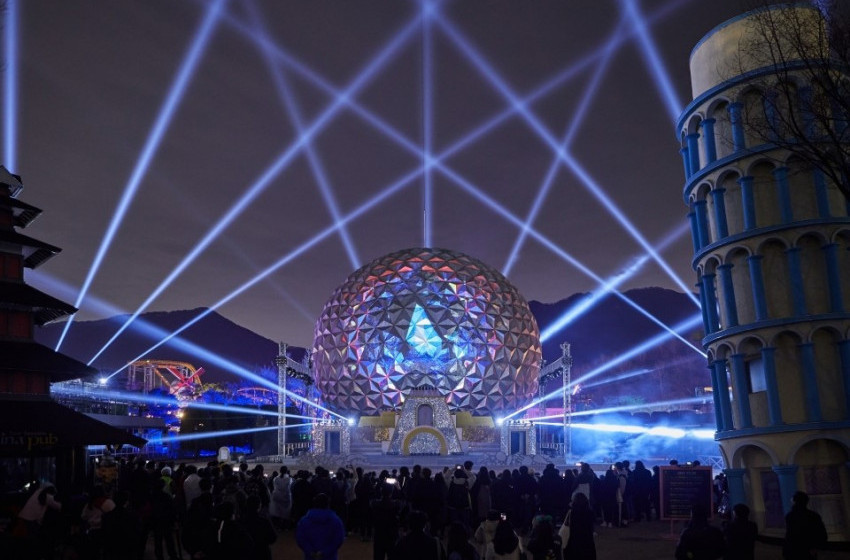 The pride of Seoulland is its wide selection of seasonal festivals and the unique Laser Show held during the evening. Seoul Grand Park is situated on a very large field and holds various festivals for each season of the year. The Tulip Festival is held from April to May; the Starlight Rose Festival from July to August; the Chrysanthemum Festival from September to October; and the Snow Light Festival from December to February.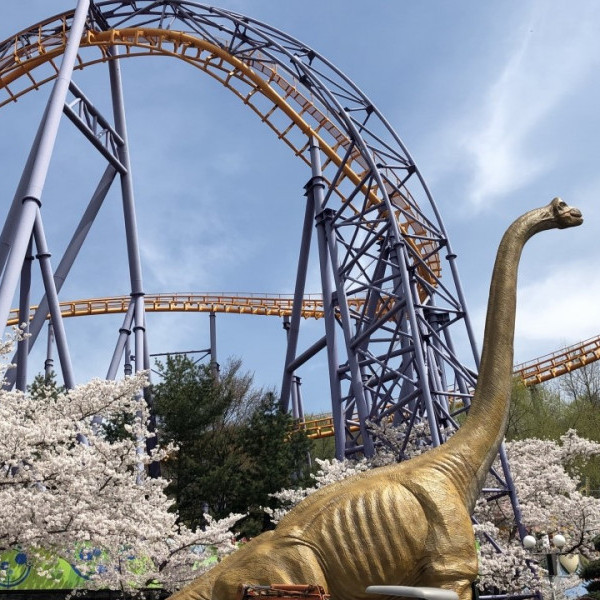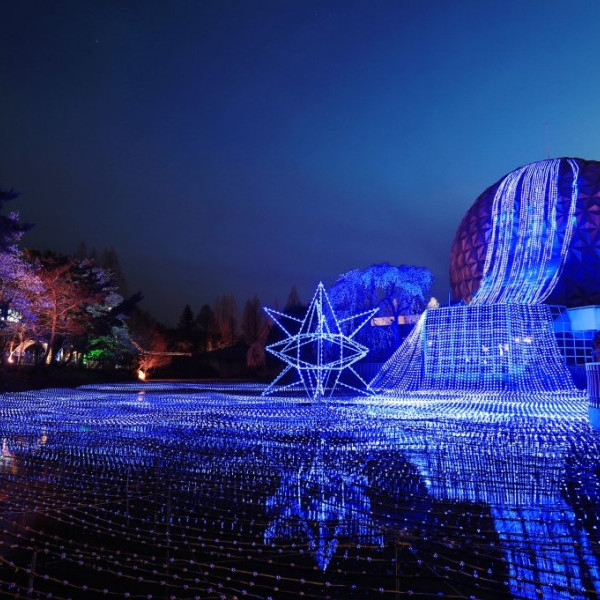 Seoulland is a popular destination as it also has many attrations nearby such as the Seoul Grand Park, Forest Bath Resort, National Modern Art Center and more.
[AGES & ID]
This performance is only suitable for those aged 19 or over, and it is impossible to cancel or refund in case of making reservation as the minor.
People who born before Dec 31, 2000 can attend this performance.
We check everyone's identification at the ticket booth. In case we identify someone who tries to enter as the minor, the entrance would be restricted and its impossible to refund for such issues.
We will issue the entrance band after checking the identification for the adult certification. It should shown passport or other evidence for identifications purpose (passport, certificate of alien registration, other identifications issued in one's homeland, US army identification).
It's impossible to certify with copies of such identification(scanned one, photographed one included), student ID, employee identification, medical insurance card, certificate of residence, expired identification, various SNS including facebook and e-mail.
[About receiving ticket]
-Ticket can be exchanged at the foreigner exclusive ticket booth.
-In case of receiving ticket on the site, please present e-voucher with identification.
-Receiving on-site ticket is limited for one time (In case of purchasing multiple tickets, buyer should receive whole tickets by oneself)
-Ticket(including robbery, damage, no-possession, loss) can't be re-issued or exchanged, and someone who do not have ticket can't enter the performance hall for any reason.
-Liability of losing ticket is up to oneself and we inform that host/associates/supervisor have no liability about such issue so please be careful of possessing one's own ticket.
[About wearing the entrance band]
-For 2 days pass, one should wear entrance band from the first day without damage till the second day.
(Should have to wear same band for two days and it is impossible to wear again, so please be aware of not taking it off)
-Entrace band can't be reissued for reason of damage or loss, so please be careful of not to harm it.
But, in case of asking re-issue for unharmed entrance band under the reason of it do not fit one's wrist well, we will check about the condition of the band on site and will re-issue the band after reclaiming the band.
[About viewing]
Entrance available time : will be informed later
To prevent issues of illegal ticket dealing such as scalper's ticket, re-entry after the entrance is strictly prohibited and refund or cancellation under those reasons are not permitted.
Schedules, artists, time table can be changed or cancelled because of artist's circumstances and refund or partial refund will not be made under such reason.
This festival will be proceeded normally in case of rain and only can be cancelled in situations such as heavy rain warning, gale warning, and the typhoon warning. In case of other circumstances(typhoon, terror, social issues), it will follow other performances' customary action
Please avoid distracting other audience watching the show, and in case we judge such actions as significant distraction, it can be restricted and also can be forced out of the hall. Depending on the degree of such action, someone can be forced out without any warning. No refund will be made under such reason
Please be careful of keeping the valuables. Host will not bear any responsibilities about robbery, accident around concert hall because of one's own inattention.
Smoking is only permitted in designated smoking area. [;
This performance includes various special effects including the stage management. Please avoid making reservation for elders, pregnant woman and feeble-minded person. In case of making reservation for those, please have consultation with doctor and contact the host prior to the performance for sharing the ways to cope with emergency situation. We don't bear any responsibility for injury or diseases during the performance if we do not have such issues beforehand
There is possibility of causing the damages of one's property, hearing loss, seizure, severe health related issue, or death around the place where this performance held. Attendance should be well-aware of every risk factor. In case of getting injured or wounded other during the performance, attendance bear every responsibility about such situations
Because of some festival's attributes, some place can be limited in viewing.
Side effects which use water can be applied during the festival and have possibility of staining audience's cloth and belongings.
Just enjoy the decoration of site only by one's eye. In case of any damage, one can be subject to the legal responsibility
Any individual event, promotion, or commercial act will be not allowed without prior consultation
There is CCTV around the hall and will be recorded all times.
[About take-in item]
For safe and pleasant watching the performance, we operate security clearance during the entrance. If anything prohibited caught during the scan, such things should be kept in pay storage and will not be stored by the host.
In case of identifying the prohibited items, such items can be confiscated and would not be returned.
Additional checkup using other instruments such as metal detector or X-ray can be made.
[Prohibited items]
Every outside food including beverage/alcohol/water and bottle, can
Dangerous objects including knife/scissor/firecracker/firearm/explosive/oil/star shell and various radio communication instruments and helmet except the cellphone
Opened items and medicines
Camping gears and gas-charging spray(including mosquitocide and suncream also)
Any objects that can distract other watching the performance such as flagpole, long umbrella, selfie-stick
Dummies, solid balls or other playing kits, balloon, water gun and other accessories with spikes and chains.
Flashlight, laser goods, LED decoration, cheering tools which can distract the stage management
Objects such as electric mobilization device including moped, electric wheelchair and other big cargo, bicycle can be stored at the stockroom
Aerial shooting devices including DSLR camera and Drone, professional photograph lenses and tripod, lighting, recording instrument.
Pet except the guide dogs for blind people
We prohibit the bringing of illegal drug which got restricted under the psychotropic substance management law and other related actions. In case of uncovering such drugs, those caught of having such drugs will be banned for this festival permanently.
[About phtographing]
Every part of the EDC KOREA 2019's performance hall is photo shooting limited area and only acceptable for the media that made prior consultation under the control of the host.
Ordinary level of photographing such as commemorative photography in the concert hall is allowed but some kind of filming that use specialized instrument(such as DSLR) is not allowed.
Photographing or recording of performance or artists can be restricted for the performance's progress and protecting their portrait rights. Anybody caught breaking can be deported from the hall after deleting such data(photo, video etc) and also can be took legal steps.
* Advance tickets for foreigners will be collected at the ticketing counter You need to bring your ID card (passport, alien registration card, copy of passport + at least one ID card issued by your country) Please bring it with you. If there is no such document, ticket exchange is not possible.
※ If you lost or damaged your ticket, it is your fault. The ticket will not be reissued and you cannot enter the concert without a ticket.
※ The concert will be broadcast live, so many cameras will be there. Because of cameras, your view could be blocked.
※ After the concert starts, you could be not permitted to enter.
※ For safety and security, any food and drink except water will be prohibited in the concert venue.
※ If you disrupt others' view with a tripod or a large camera, you could be restricted by the staff.
※ If you book a ticket illegally or if you are a Korean, your booking will be automatically cancelled and you cannot get refund on your ticket fare.
※본 티켓은 외국인 전용 예매 티켓입니다. 여권 또는 외국인등록증을 통해 본인 확인 후 티켓이 발권됩니다.(한국인 티켓 수령불가)
※부정 예매나 해당 대상이 아닌 경우(내국인), 예매는 강제 취소되며, 환불 또한 불가능합니다.
※Cancellation policy: non-refundable ​
Utilization information
Reservation
| Product | Normal Price | Trippse Price |
| --- | --- | --- |
Access
[Subway] Seoul Grand Park Station (Seoul Subway Line 4), Exit 2.
For more detailed view on the map, click here.
181, Gwangmyeong-ro, Gwacheon-si, Gyeonggi-do
Nearby information
Gyeonggi-do > Seoul Grand Park

Gyeongmajang Orijip is a Korean restaurant specializing in Yuhwang Ori Jinheuk-gui (grilled herb and mineral-fed duck wrapped in mud), Hunje (smoked barbecue duck), Baeksuk (boiled duck stuffed with glutinous rice and ginseng), and Jeongol (duck casserole). Moreover, the restaurant is located near p
Gyeonggi-do > Seoul Grand Park

Larva Sledding Hills in large and features one adult slope (length 100m, x_width 50m) and a children's slope (length 45m, x_width 30m). The slopes here maintain a steepness of 17 degrees which adds to the speed of the sled. In all corners of the hill are igloos and fire pots, providing the use

40% OFFCoupon

Gyeonggi-do > Seoul Grand Park

SeoulLand is Korea's first theme park, with a beautiful scenery surrounded by Mt. Cheonggyesan. SeoulLand has an area called 'World Square' where one can glimpse traditional architecture and folk items from all over the world. You can view the traditional Korea at Samcheonri Hill

Gyeonggi-do > Seoul Grand Park

The Rose Garden offers a magnificent sight created by some 30,000 roses (400 species) surrounding the Seoul Grand Park Lake. In June, when the roses are in full bloom, the garden is a popular date spot for couples.

Gyeonggi-do > Seoul Grand Park

Located in beautiful Gwacheon, the National Museum of Modern and Contemporary Art, Gwacheon displays works by Korean and international modern artists, as well as works by contemporary artists currently making waves in the art world. As well as its permanent collection, the museum generally presents

Gyeonggi-do > Seoul Grand Park

Seoul Zoo is an open space of natural education, created to foster children's interest in and love for animals and nature. The zoo runs educational programs where children can learn about various animals. Through the programs, children are able to interact with and feed dogs, monkeys, rabbits, dee

Gyeonggi-do > Seoul Grand Park

Covering an area of about 9,157,000 ㎡ (2,770,000 pyeong), Seoul Grand Park consists of themed areas for education, nature, and amusement. The park is known for its various amusement facilities and scenic beauty. Seoul Grand Park's major attractions include Seoul Grand Park Zoo, Children's Zoo, a

Gyeonggi-do > Seoul Grand Park

As a landmark facility representing Korea's advanced science and technology capabilities, Gwacheon Sciencetorium shares with the public scientific principles that govern daily lives and shape the future of the nation.The main building of Gwacheon Sciencetorium (which is shaped like an aircraft tak

Gyeonggi-do > Seoul Grand Park

Seoul Race Park in Gwacheon is one of the three parks in Korea for thoroughbred flat races. It hosted horse racing games during the 1986 Asian Games and 1988 Summer Olympics (both held in Seoul). Seoul Race Park is equipped with two sand tracks with a 450m-long home stretch, two grandstands named

Gyeonggi-do > Seoul Grand Park

Let's Run Park Seoul, located in Gwacheon, has horse races every weekend, as well as various unique experience programs and events to enjoy. The most popular program is the Secret Way Tour, giving access to parts of the park generally closed to the public. The Let's Run Wagon Tour allows par
| | |
| --- | --- |
| Gyeonggi-do > | |